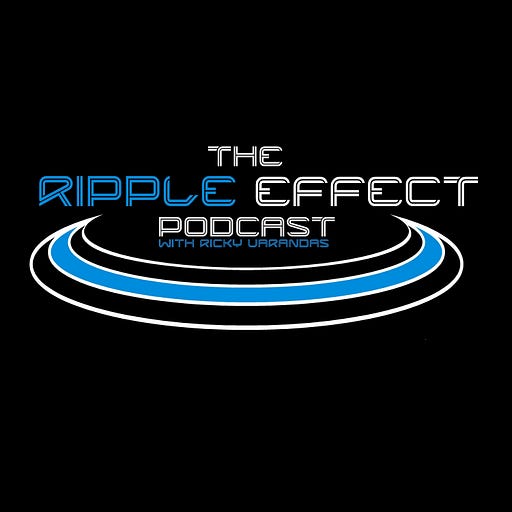 Jan 24 • 1HR 22M
The Ripple Effect Podcast #447 (Joshua Coleman & Olivia Mikos | V is for Vaccine)
The Ripple Effect Podcast has journalists on like Ben Swann, historians like Dan Carlin, musicians like Burton C. Bell from Fear Factory, researchers like James Corbett, scientists like Rupert Sheldrake, comedians like Jim Florentine, doctors like Dr. Burzynski, filmmakers like Mikki Willis, authors like Christopher Ryan, philosophers like Daniele Bolelli, athletes like Justin Wren, professors like Richard D. Wolff and many others like Gov. Jesse Ventura, Freeway Rick Ross, Del Bigtree, Matt Farah, Dr. Dominic D'Agostino, G. Edward Griffin & Whitney Webb, in hopes to bring our listeners the most interesting people, & the most interesting conversations, with the goal of "Provoking Thought & Starting A Ripple."
Joshua Coleman and Olivia Mikos founded V is for Vaccine in 2019, as censorship of information, individuals, groups and social media platforms began to drastically increase. Joshua and Olivia's years of creative collaboration together, coupled with their drive to break through barriers, culminated in the brainstorming and inception of this campaign. The goal was to bypass the mainstream and social media censorship, and educate the public on important truths about the vaccine program; truths that everyone has the right to know before making the decision to vaccinate.
The V is for Vaccine formula consists of: giant signs, irrefutable facts, simple and uniform messaging, eager activists and a good dose of flair. From their first demonstration at Disneyland with only 14 people, the campaign has expanded to all 50 states and 3 countries.
V IS FOR VACCINE
WEBSITE:
https://www.visforvaccine.com/

INSTAGRAM: https://www.instagram.com/visforvaccine/
FACEBOOK: https://www.facebook.com/visforvaccine
TWITTER: https://twitter.com/visforvaccine
THE RIPPLE EFFECT PODCAST
WEBSITE:
https://RickyVarandas.com/

WEBSITE:
http://TheRippleEffectPodcast.com

Website Host & Video Distributor:
https://ContentSafe.co/
SUPPORT:
PATREON: https://www.patreon.com/TheRippleEffectPodcast
PayPal: https://www.PayPal.com/paypalme/RvTheory6
VENMO: https://venmo.com/code?user_id=3625073915201071418&created=1663262894
MERCH Store:
http://www.TheRippleEffectPodcastMerch.com

MUSIC: https://music.apple.com/us/album/the-ripple-effect-ep/1057436436
ROKFIN: https://rokfin.com/RippleEffect
SPONSORS:
LMNT Electrolyte Drink Mix (Free Gift With Purchase): http://DrinkLMNT.com/TheRippleEffect
NEW LMNT CHOCOLATE MEDLEY: https://drinklmnt.com/pages/chocolate-medley?rfsn=6589695.aa3fa8&utm_medium=affiliate&utm_source=rickyvarandas&utm_campaign=chocolatemedley&utm_content=&utm_term=
THE UNIVERSITY OF REASON (Autonomy Course): https://www.universityofreason.com/a/29887/ouiRXFoL
ContentSafe:
https://ContentSafe.co/
OTHER SPONSORS:
IPAK-EDU Classes (10% OFF Link):
https://ipak-edu.org/?afmc=RVIPAK

Health Products & Supplements: https://shareasale.com/r.cfm?b=895844&u=3238711&m=53676&urllink=&afftrack=%22%3EVisit
Johnny Larson (Artist): https://linktr.ee/johnnylarson
WATCH:
ROKFIN: https://rokfin.com/RippleEffect
ODYSEE: https://odysee.com/@therippleeffectpodcast:d
BITCHUTE: https://www.bitchute.com/channel/6bOtjURD1rds/
FLOTE: https://flote.app/trepodcast
RUMBLE: https://rumble.com/c/c-745495
Banned.VIDEO: https://banned.video/channel/the-ripple-effect-podcast
YOUTUBE: https://www.youtube.com/channel/UCVfy9MXhb5EIciYRIO9cKUw
LISTEN:
SPOTIFY:

GOOGLE PLAY/PODCASTS: https://podcasts.google.com/search/the%20ripple%20effect%20podcast
iTUNES: http://apple.co/1xjWmlF
STITCHER RADIO: https://www.stitcher.com/show/the-ripple-effect-podcast
SUBSTACK:

Fringe.FM: https://fringe.fm/shows/the-ripple-effect-podcast/
CONNECT:
TeleGram: https://t.me/TREpodcast
TWITTER: https://twitter.com/RvTheory6
INSTAGRAM: https://www.instagram.com/rvtheory6/
FLOTE: https://flote.app/user/RvTheory6
GETTR: https://www.gettr.com/rickyvarandas
PARLER:
https://parler.com/#/user/RvTheory6

FACEBOOK: https://www.facebook.com/TheRippleEffectPodcast/
LOCALS: https://locals.com/member/RickyVarandas
THE UNION OF THE UNWANTED
VIDEOS (Rokfin): https://rokfin.com/uotuw
AUDIO (RSS Feed):
https://uotuw.podbean.com/

MERCH: https://www.teepublic.com/stores/union-of-the-unwanted?ref_id=22643&utm_campaign=22643&utm_medium=affiliate&utm_source
CSID: 5392cb431697db90
Content Managed by ContentSafe.co